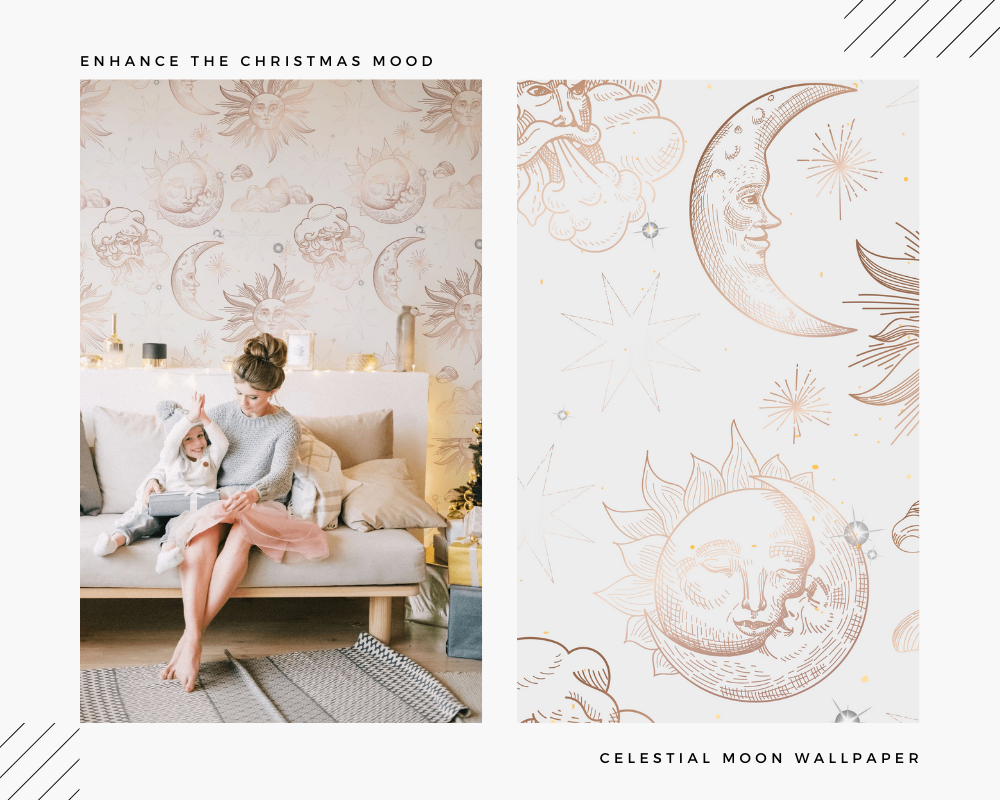 Did you just find out that you're going to be the host of Christmas this year? That sounds absolutely great, except for one thing. You learned that just a few weeks before holidays and your home would really use some sprucing up. If you have a huge family and many relatives you haven't met for a long time, this might feel especially stressful. One thing we can promise: don't worry, because we have all been there. Learn our fast and hassle-free renovation tips to get your home ready for hosting the most beautiful Christmas party ever.
Add Peel And Stick Wallpaper
This is hands-down the best renovation strategy that creates a great impact and can be applied in a matter of an hour. Unlike traditional wallpaper which requires a paste or glue, our self adhesive material will stick for itself. In other words, the wallpaper panel works like a big sticker. Just peel it, stick it and love it! But the best part is that if you order the design at least two weeks before Christmas, we promise you'll receive it right before the celebration. Even a layer of paint will hardly dry up so quickly! This is a super fast and easy renovation idea that is bound to impress.
Get a Carpet
Nothing makes the room look so put together like carpet does. Choose a carpet that follows the color scheme of the space or pick it as a bright or dark accent. This quick update actually creates a great impact and helps to cover some signs of wear on the flooring.
Change Lightning
We bet that the first thing that your guests will notice is a big statement chandelier in the hallway. This is another hack of sprucing up the space without planning the renovation for months. Go for a modern bubble or classy cystal chandelier or choose a contemporary lamp.
Update Guest Room With Wallpaper
If your guests are staying over, it's nice to show that you care by sprucing up the room a bit. Sometimes guest rooms become a storage place for all the excess clutter of the house. So first of all, make sure to declutter the space and update it with nice touches. And again, you don't have to go overboard with buckets of paint. You can pick peel and stick wallpaper, add a bedspread over the bed or put house plants in the room.
Spruce Up Powder Room
You might have heard the trend of super cute and modern powder rooms. Even if your house is featured in neutral hues and classical touches, powder room is the finest place to let your freak flag fly. Turn it into a surprise! You can achieve it with fun and bright peel and stick wallpaper, creative drawer handles, eye-catching lightning or even toiletries with fun print. It is no wonder that sometimes that becomes the best-looking space of all house!
Explore our Suggestions for Bright Wallpapers: