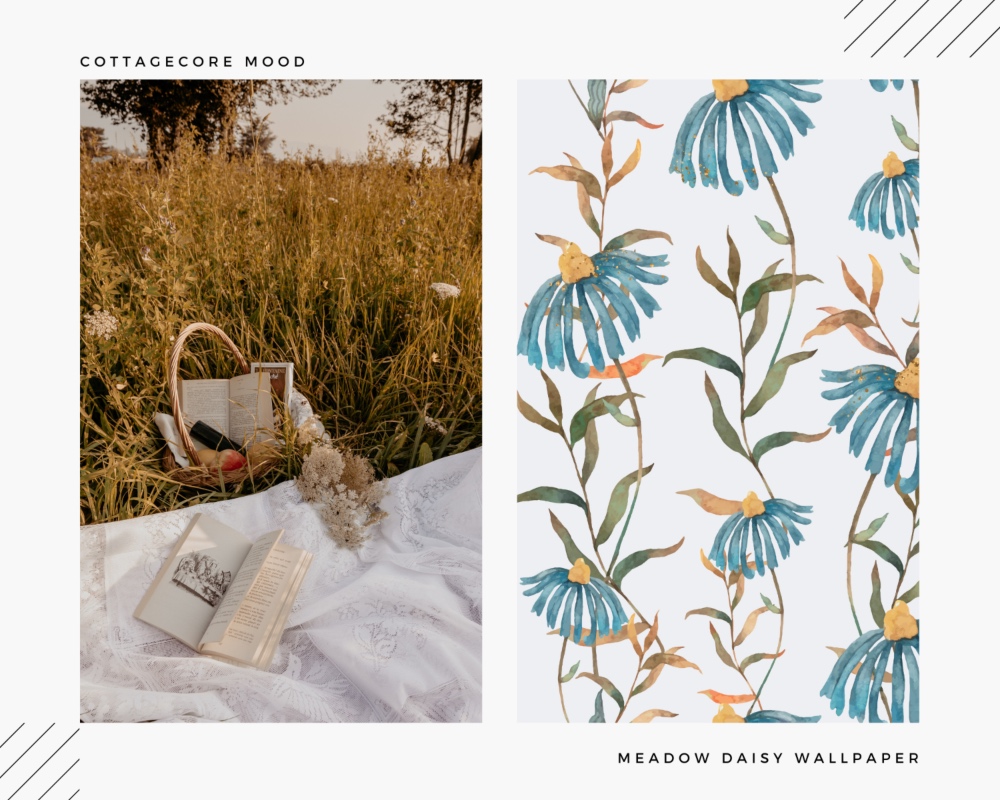 Cottagecore wallpapers might sound strange at first if you haven't heard the term before. However, this is an interior trend that has been booming for the past few years and we can clearly see the reason why. This design aesthetics is all about a nostalgic and cozy vibe. In other words, it's stepping back in time to enjoy a simpler way of life. And wallpaper is the easiest way to achieve that.
So what is cottagecore?
The concept of cottagecore dictates a simpler way of life that brings us closer to nature. It is all about agricultural lifestyle, skills and crafts. Just imagine a traditional English countryside cottage and you'll get the mood instantly. This trend became popular when the world got locked down by infamous pandemic wave. People felt the need to isolate themselves, many sold their fancy penthouse apartments to get lost somewhere in countryside. Even more, as businesses understood how easy it actually is to organise all the job remotely, living in the city centre was not a necessary thing anymore to build a successful career. Now you can do it from anywhere, even from your cozy countryside cottage.
And the best part? You don't have to move to Sussex to enjoy a rural English influence at your place. Thanks to cottagecore wallpapers, even a Downtown apartment can be decorated in a way that feels authentic and tranquil.
Aesthetics of Cottagecore Wallpapers
When it comes to cottagecore wallpapers, there are a few tips to keep in mind to achieve the atmosphere successfully. First of all, pay attention to color palette. Cottagecore will rarely feature bold colors like neon pink, bright teal or crimson red. Except for the cases when these neon hues are used just as a subtle accent. Second, the pattern almost always features floral motifs, pastoral scenes of hills and lush meadows, vintage botanical illustrations etc. Cottagecore wallpapers are all about bringing you closer to the nature in the most natural and simplest way possible. However, when paired with tasteful color scheme in earthy hues, this style achieves a very sophisticated feel.
In the middle of Forest
If you want to embrace the feel of a Northern forest at your place, look no further. This Botanical Fern wallpaper will do the job just beautifully, adding some fine tranquility to your space. As you already know, cottagecore is heavily inspired by nature so green hues is the key to achieve the look.
Watercolor Painting
Have you seen the beautiful and dreamy watercolor paintings by French artist Claude Monet? This wallpaper embraces the enchanted style of this artist. Abstract water lilies and blooming lotus flowers will add a whimsical touch to your interior. We believe this is one of the finest cottagecore wallpapers for any interior.
Terracotta Cottagecore
If you're aiming for something more bohemian yet still natural and calm, take a look at this Soft Pampa Grass wallpaper. The light terracotta background feels more modern than the usual romantic cottagecore wallpapers, however the dreamy pampa grass pattern looks nostalgic enough to create the vibe you're after.
Dark Chinoiserie
Chinoiserie wallpapers is the easiest way for cottagecore wallpapers. Dainty flowers pattern is a very classic and charming take of the trend. You can visit basically any classic cottage in English countryside and we bet you'll find a chinoiserie wallpaper in every second house at least. Therefore, you simpy can't go wrong with this navy chinoiserie wallpaper.
Explore our Suggestions for Cottagecore Wallpapers: