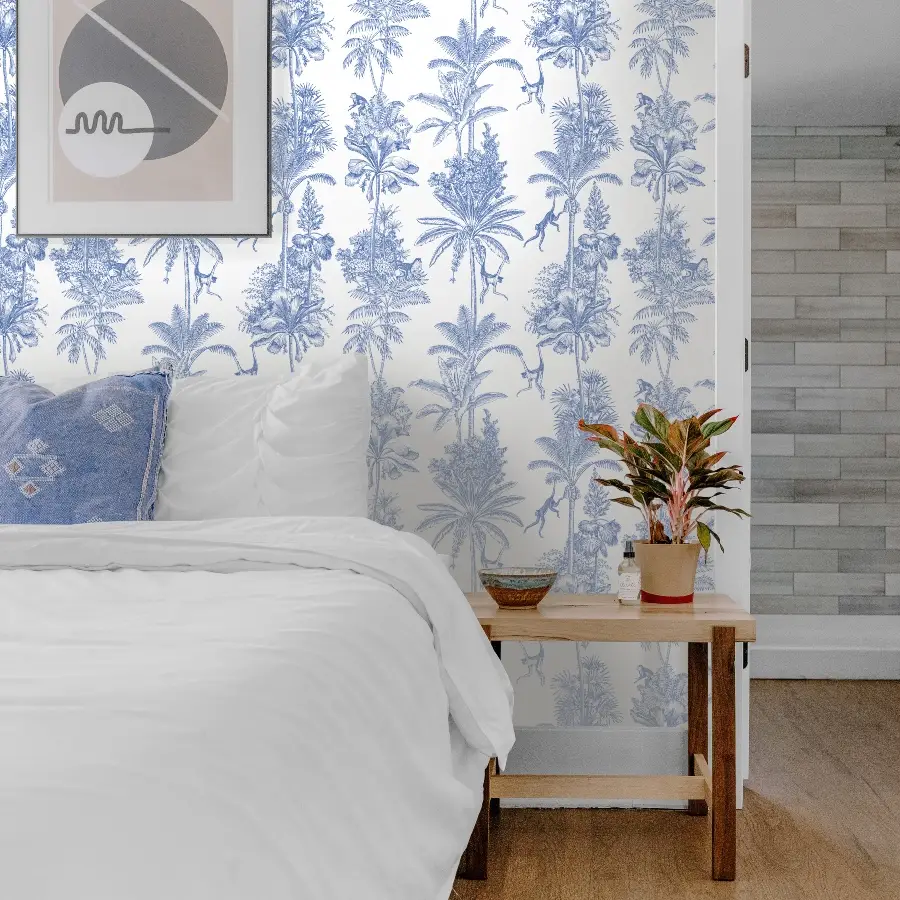 In this article, we will answer all the possible questions about wallpaper trends for 2022. What's in and what's out? And how to choose the one wallpaper that will look striking for years to come? Consider this the grand manual of staying on top when dressing up your walls.
What are the wallpaper trends for 2022?
The bigger the better could be the mantra of this year when it comes to wallpapers. People are tired of boredom and isolation, therefore one thing they crave is bold. The colors dominating the wallpaper scene this year will be greens, deep blues, teals, beiges and earthy shades. In 2022, various retro patterns are having a comeback. For example, toile and chinoiserie wallpaper is hotter than ever. As always, the main advice would be to choose something that resonates with you. Don't just follow the trends but pick a wallpaper that soothes your mind and lifts your mood.
Trend No.1: Large Scale Pattern
'Go big or go home' is one of the key takeaways for 2022. This strongly relates to wallpaper patterns as well. To achieve an impressive and bold look, stick to more is more philosophy. If you want a truly daring look, choose large scale petals instead of dainty florals. Or if you choose tropicals, opt for a large palm leaves. However, to rock this trend professionally, consider size of the room first. If you have a compact space, we recommend sticking to more intricate patterns.
Trend No.2: Toile De Jouy
Toile wallpapers have their history of being incredibly popular in France back in the days of royals, palaces and over-the-top lifestyle. However, after the boring years of minimalism, people tend to crave this sophisticated pattern. This time, it has happened thanks to fashion. Few years ago, one of the luxury brands started to use toile print on their bags, scarves, and other garments and design items. Since then, toile has become their new signature and therefore, becoming increasingly popular in interior as well. We predict that toile wallpapers is going to be the most popular wallpaper trends for 2022 and many other years to come.
Trend No.3: Go Floral
Nothing makes the room more lively than well-planned botanicals. This year, let your walls bloom! sure, floral wallpapers is nothing groundbreaking. The reason why they never leave the trend watchlist is that they simply look beautiful and always work. The only rule we recommend following is to cover just one item or object of the room in a floral print. For example, if you choose floral wallpaper, don't mix it up with floral bedspread, cushions, posters, and so on. You don't want to achieve granny chic, right?
Trend No.4: Chinoiserie
Chinoiserie wallpapers is more trend that is facing its comeback. It has been out of fashion for many years. It used to be associated with country manor houses and sometimes feels a bit old school. The secret here is to pick an updated version of this trend that looks more modern and contemporary. Traditionally chinoiserie plays around fantasy motifs, arranged flowers, birds or stylised animals. When chosen right, chinoiserie wallpaper can add a fresh and exciting touch to your room.
Trend No.5: Art Deco Wallpaper
Bold, vibrant and opulent – that is how we would describe an Art Deco wallpaper. This has been our personal favorite for years. In 2022, it is having it's moment. Art Deco has that timeless quality that will never go out of style or look outdated. 1920's inspired wallpaper will add an extravagant and lavish touch to your space. And what else we could wish for? Let's make Great Gatsby proud this year by choosing lavish Art Deco wallpaper!
Trend No.6: Sage Green and Teal
Sage green is one of the hottest color searches on Pinterest, and we can clearly see why. It has replaced Millennial Pink as the top shade to make the room more lively. Greens bring you closer to nature and works well with most furniture.
Trend No.7: Burnt Orange
One of the most popular wallpaper trends for 2022 is burnt orange color. It creates a heart-warming atmosphere at your place and makes it more cozy. Terracotta-inspired hues remind of a desert sunrise and brings only positive vibes. Earthy shades is a tasteful choice when it comes to wallpapers.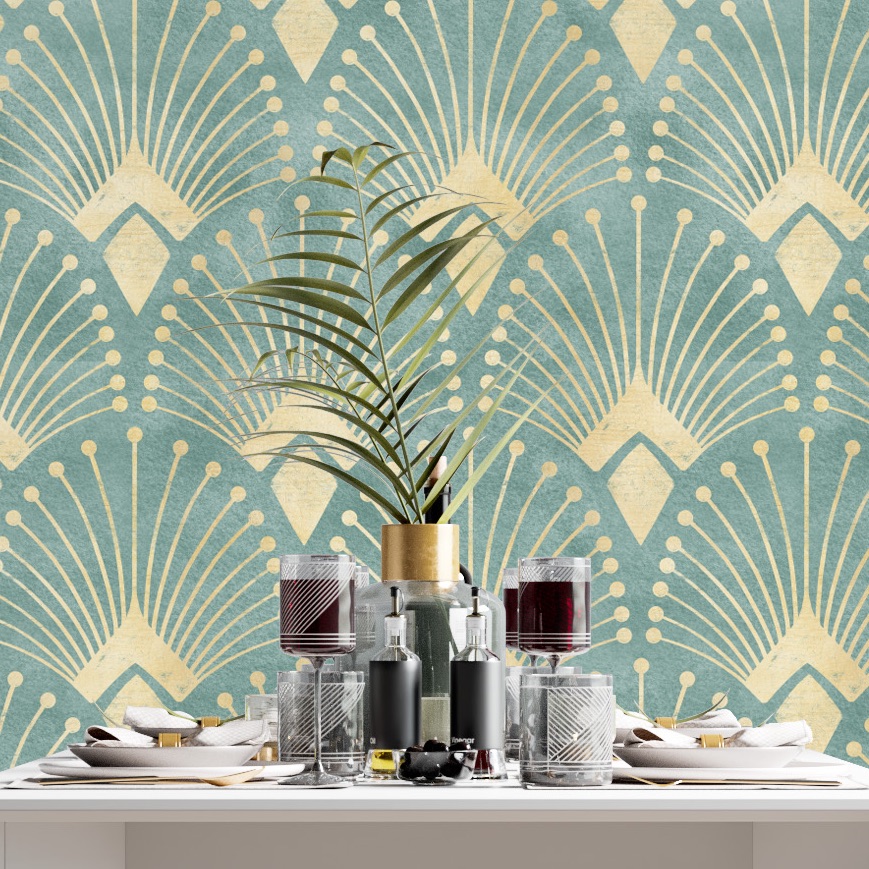 Wallpaper Trend FAQ's
Some general wallpaper questions – answered.
Is wallpaper still in style 2022?
The answer is short: absolutely yes! Wallpaper is a key trend of 2022 and it is hotter than ever. As the interior trends changed from blank minimalism to bold and daring, wallpaper is an amazing way to showcase your own taste and personality. Furthermore, as we are spending more and more time at home, we want to create the space more meaningful to us. Whatever your taste, everyone can find a design or wallpaper style that resonates with yourself.
Are feature walls still in fashion in 2022?
Feature walls are a great way of refreshing the space in an easy way. Also known as accent walls, they liven up the room and add the right amount of interest to it. Due to the boredom and isolation these past few years, people tend to choose bold and brave designs and colors. Feature walls can define a large open plan room, highlight an element or add an illusion of space. Statement wallpaper has made a big comeback and it helps to add rooms character and depth.
Is toile wallpaper out of style?
Quite the opposite, it has never been more trendy that now. Due to various luxury fashion brands using toile print on their bags, scarves and other garments, this print is increasing it's popularity by days. Even more – as we wrote before, toile wallpaper is going to be one of the key wallpaper trends for 2022.
How do you pick out wallpaper?
There are many trends that predict which wallpaper styles are in or out. However, we recommend following your own taste as the main guide when choosing the right design. Do your own research and see what's trending but always listen to your own preferences. Choose a wallpaper that soothes your soul and enhances the mood and purpose of the room.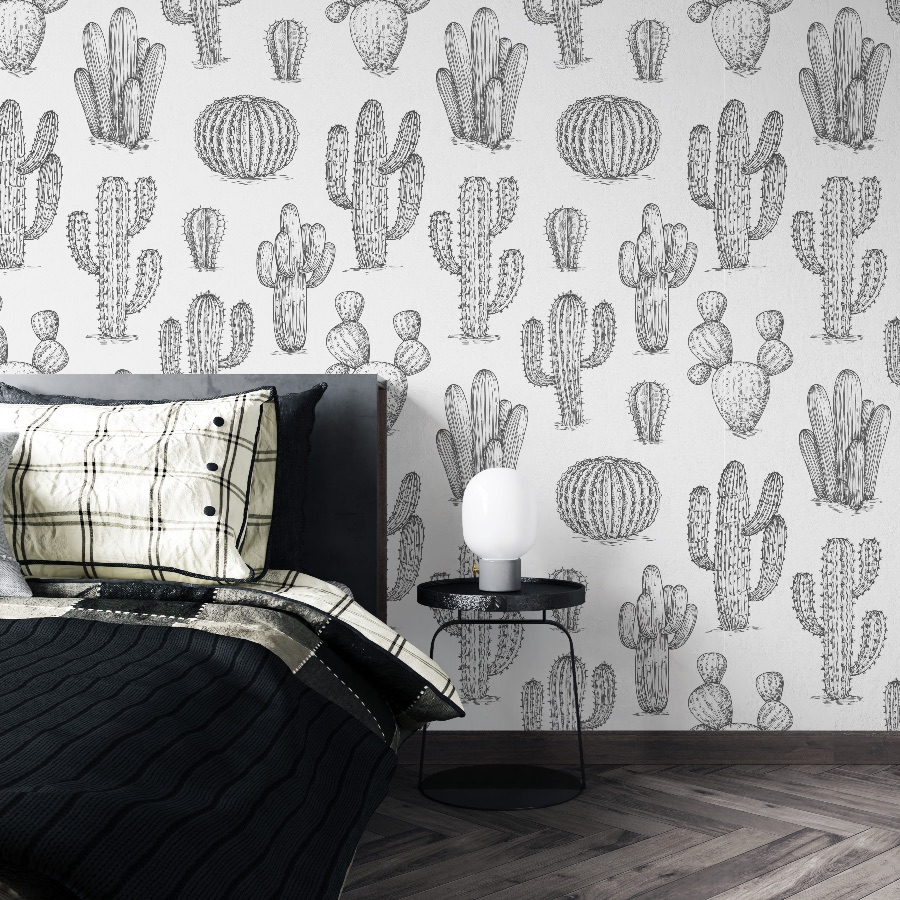 Which Wallpaper Trends Are Outdated?
Too Much of Everything
When patterns, colors and interior styles get overdone and mixed all together, you risk stepping into shabby chic territory. "More is more" philosophy works only when it's done professionally and it's so easy to come up with a stylistic mess that gets annoying really fast. Cluttered rooms filled with meaningless decors is a thing that definitely should be left in 2o21. And there is a serious reason behind that. Since the world is still tackling with pandemic situation, many of us are spending more time at home than ever. Home should be a place where to unwind and clear your mind but that surely won't happen if you're surrounded with irritating decorations. That is why we would recommend staying away from a different wallpaper in each room – all together, it looks simply messy.
Cheap Palm Prints
Palms are everywhere nowadays – from coffee shops to offices and living rooms. But does the tropical pattern still surprises anyone? I surely doubt that. Of course, tropical vibes truly soothe the craving for escapism and ease the mind when the last honeymoon destination was visited months or even years ago. But when taking wallpaper trends for 2022 in account, we recommend doing tropical style the right way. First of all, stay away from knock-off patterns that look cheap and too graphic. Second, try something more unique, like watercolor palm pattern or our recent favorite – toile wallpapers. This vintage French take on a tropical pattern is about to blow up in 2022 as it looks incredibly chic and sophisticated.
Beach Vibes at Home
Nautical motifs is one of the most outdated interior trends in 2022. Ropes, seashells, anchors or even worse – shiplap should be left well behind as this trend compliments only a hippy beach bar not your living room. Shiplap walls appeared in nearly every TV home-makeover show in the recent years but it is time to sail away from this boring trend. What can be even worse than shiplap? A wallpaper with a shiplap pattern (hint: it's fake and we all know it). To achieve a breezy and laid-back atmosphere, choose a color palette in deep ocean blues instead.
Terrazzo
This composite material looks fun at first and was a huge hit in 1930s and 1990s. Recently it made a big comeback and became hugely popular among Millennials. In reality, terrazzo might look cute for the first five days when installed, but people tend to get overwhelmed with it very quickly. If you're a die-hard fan, stick to a terrazzo flooring and don't try to cover everything from countertops to bathroom walls in a bright terrazzo.