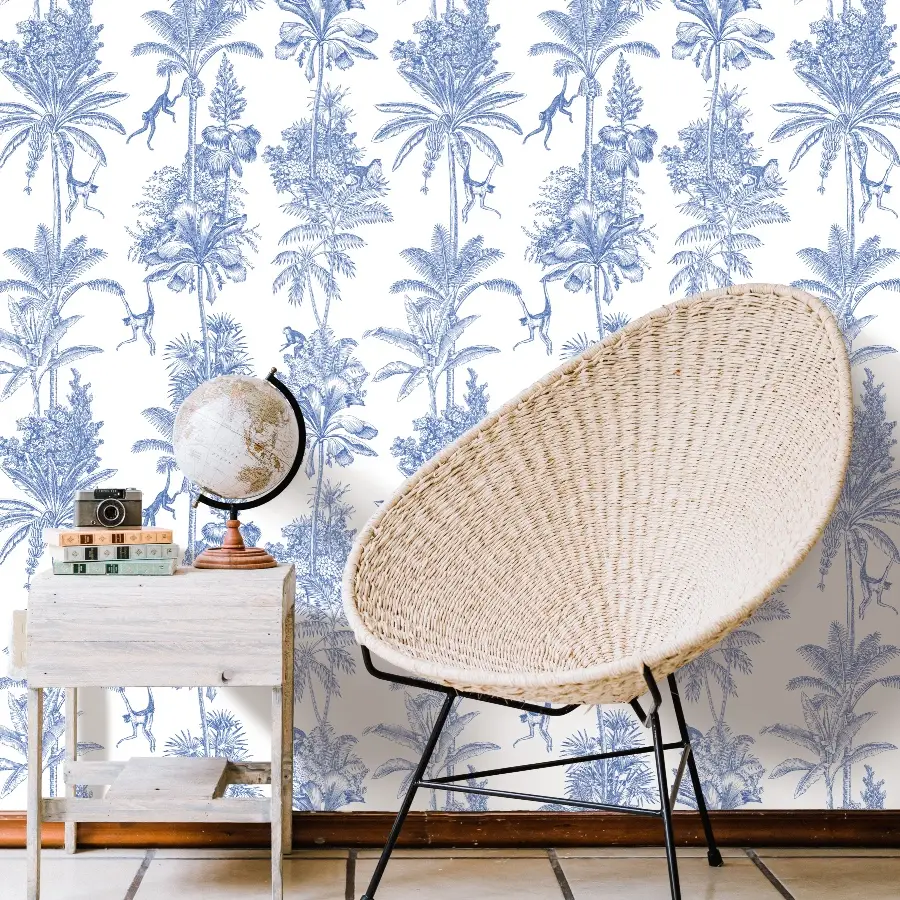 Can't decide if peel and stick wallpapers are worth a try? Read our honest review of all the pros and cons that you might face when choosing self adhesive wallpapers.
Using peel and stick wallpapers is a very recent method of dressing up the walls. When speaking of wallpapers, people usually refer to the wall coverings seen at their grandmother's dining room. In other words, something very outdated and quite boring (sorry grandma, but it's true). Another thing that pops in mind is a huge mess that comes along with the installing process. You know the drill: how to choose the right wallpaper paste? Will it work with the wallpaper material that you have found? And where to find a traditional wallpaper with a truly modern or contemporary design? It's tough, we know. Thankfully, the world has been introduced to a new kind of wall coverings in the past recent years. Meet peel and stick wallpapers that will surely solve all your design and renovation dilemmas.
Here at The Wallberry, we specialise in peel and stick wallpapers. We do not offer traditional materials as we believe that peel and stick is the future of dressing up your walls. Here in this article, we will explain the reasons why. However, our goal is to be completely transparent so we will update you on all the possible cons as well.
PROS OF SELF ADHESIVE WALLPAPERS
Mess-free and easy application.
This is the reason why we enjoy peel and stick wallpaper the most. No pastes or glues needed! Plus, you do not need a whole professional team to install this wall covering, as it is a job of two. In fact, it will take just a few hours to cover your walls with it. No need to hurry, so you can just walk away and take breaks at any time (or get distracted by children). Plus, our wallpaper panels are installed side by side, so you'll get no bumps from overlapping.
Endless design options.
One of our main goals is speed. We work fast! Our design team always strives come up with "the next big thing" – a design that is made to steal the spotlight. Therefore, you can see that our collections are filled with modern, contemporary, fun and boho options. You will surely find something that catches your eye! On the other hand, we offer many classics, like Art Deco, geometrics,
Durability.
Unlike other peel and stick wallpapers that peel off when something scrubs or touches it, our material is made to last for years. It will not come off, unless you want it (please, carefully follow our removal instructions). It is highly adhesive, therefore will easily stick on more difficult surfaces as well.
100% material opacity.
You don't like the wall color that's underneath? No worries here, as our material is 100% opaque. That means, nothing will show through. It is perfectly thick and you can feel the premium quality just by touching it.
Custom size options.
As you have already noticed, we offer our wallpapers in very wise dimensions. All of the panels are 25 inches wide. Therefore you just have to choose the height that is needed to cover your wall and that will be the size to take. Then, divide your wall width with 25 inches and you will get the amount of panels that is needed to cover it. Sounds easy, right? Plus, we can customise practically any design, to match your wall dimensions perfectly. You'll just have to peel it, stick it and enjoy the beautiful result! This also means saving your money, as you don't have to buy an unknown amount of traditional wallpaper rolls.
CONS OF PEEL AND STICK WALLPAPERS
Different batches may vary.
All of our wallpaper is made to order. That means, we do not hold a wallpaper stock and produce everything for our clients exclusively. Due to different environmental changes (like sudden heat or humidity), and various batches of ink or material, the color of the wallpaper might slightly differ from one batch to another. Therefore, we strongly recommend ordering all the wallpaper amount needed at once. This way, you will be sure that the panels look exactly the same. There will be no color deflections when they are applied next to another.
Price.
As we mentioned before, The Wallberry uses only a premium quality material that gets printed with eco-friendly inks. We do have a few Bugatti's in a form of printing machines at our factory, therefore you can be sure that everything gets produced with the newest and most precise technologies. That explains why our wallpaper price is slightly higher than traditional wallpaper, as the production costs are high. One thing you can be sure – you'll get what you pay for, and that is a luxurious quality, color vibrance and durability.