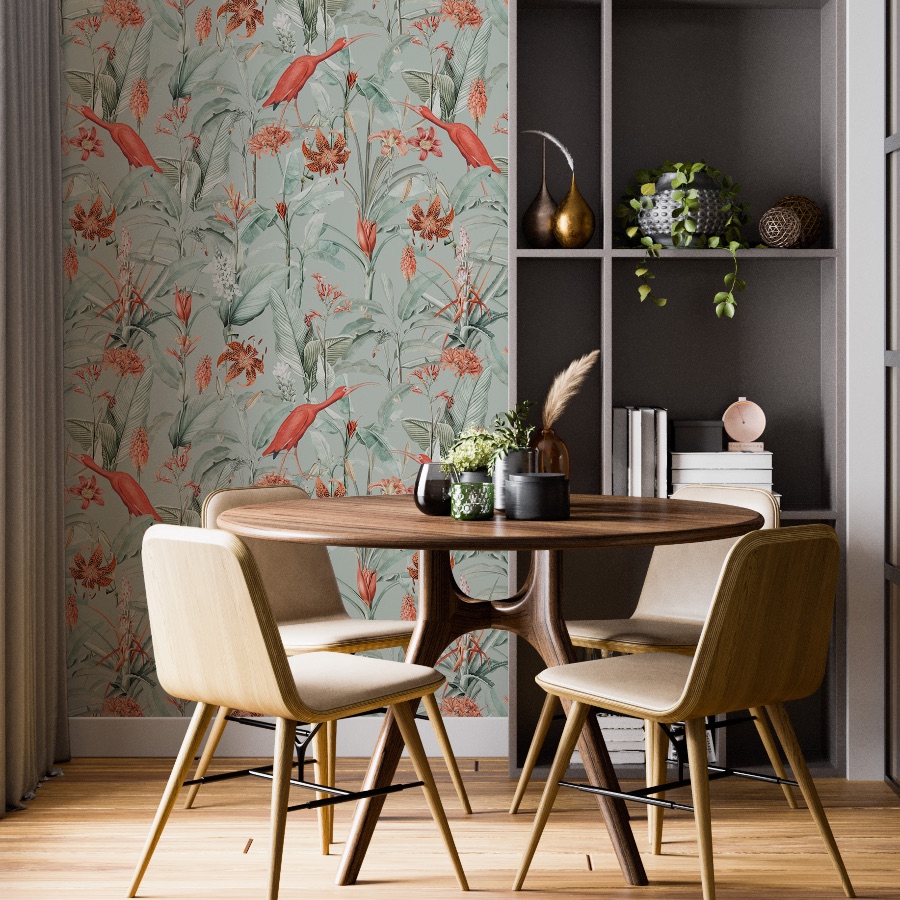 When done right, tropical wallpapers can be a real statement at your place. But when it is overdone or chosen poorly, this style can really mess up with the relaxed atmosphere you're striving for. How to choose tropical wallpaper that feels and looks modern and blends right into your interior easy and beautifully? Read our tips and tricks to choose the best peel and stick option out there!
Are you planning to achieve the vibe of a tropical getaway in the middle of a concrete jungle? Of course, you can always bring a huge palm or banana tree indoors. Or you can replace all of your furniture to rattan. In reality, the border between elegance and badly done kitsch is very thin. We have seen it all – from overdone island party vibes to more grown up and subdued hues. Right now, it's all about a tasteful luxury that reminds more of a retreat rather than an adventure.
There's no secret that applying a peel and stick wallpaper on an accent wall is the easiest way of updating your interior. Just peel it, stick it and enjoy! Therefore, adding an exotic touch to your place will be equally as easy when choosing tropical wallpapers. There are just a few rules though to keep this style tasteful and welcoming. First of all, pay attention to colors. If just a few years ago jungle wallpapers didn't come without neon lime or hot pink colors, now they look more sophisticated. Think sage green or powdery pink instead of neons. That's why we suggest choosing nude pink and coral instead of magenta; navy instead of bright blue; warm mustard instead of banana yellow. This way, tropical wallpapers get a laid back and low key vibe.
When it comes to patterns, palm leafs are still in. There are just a few key points to keep in mind. Instead of overwhelming bushes, choose a pattern that looks more like a soothing foliage. You can also use some florals if they are done tastefully. For example, think tropical wallpapers with strelitzias or tiger lilies. Another highly fashionable choice is toile de jouy pattern. It comes from France and is widely used in various fashion brand prints, like Dior.
5 basic rules of modern tropical wallpapers
1 Keep it as sophisticated and elegant as possible
2 Use earthy, subdued or natural colors – skip the neon hues
3 Plants are always in – especially in patterns
4 Repeating patterns leave a space for eyes to rest
5 Combine wallpaper with rough plastered walls, wooden or linen textures and indoor plants