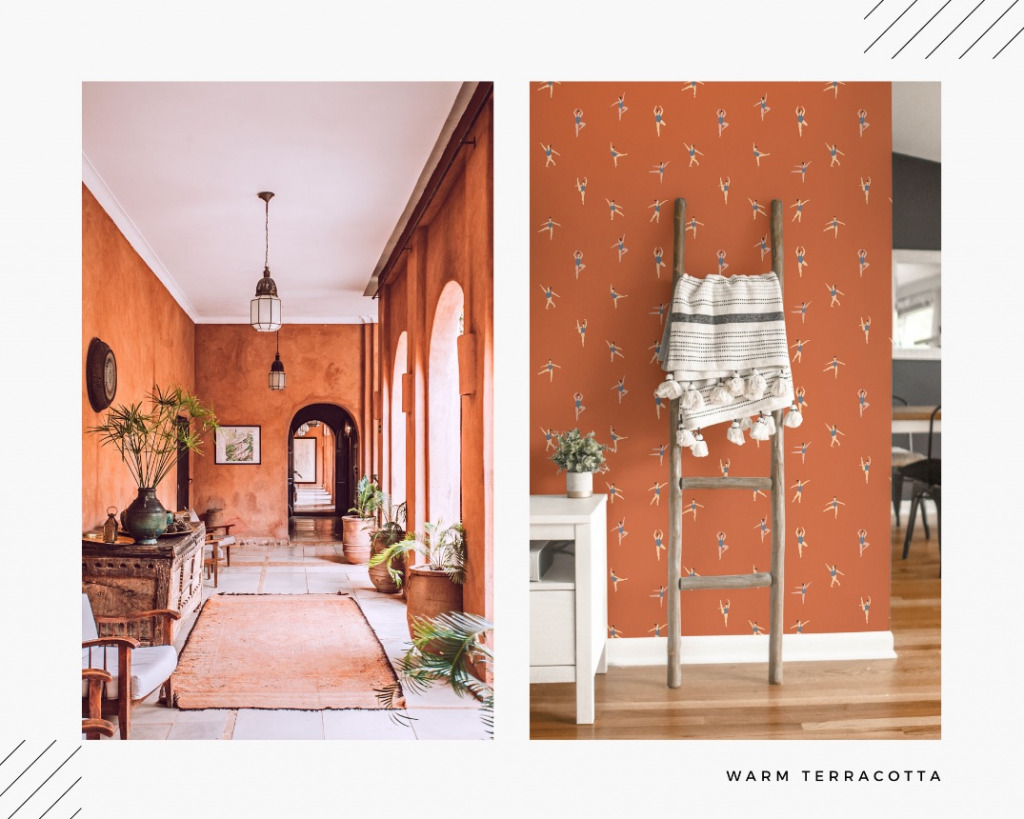 Of course, new year always comes with a new trendiest color prediction. Mostly they seem really exciting for a while, but sometimes the trend fades really fast and what once seemed like a great idea (hello, DIY paint explosion on the wall!) gets tiring in few months. This is why we carefully handpicked the interior color trends of 2021 that will guarantee a timeless chic feeling.
After the long years of (slightly boring) Scandinavian minimalism, we finally greet the comeback of bold statement colors and refreshing accent walls. Today no one is surprised to see an all-minimal-and-Stark-white apartment, as this trend seems quite faded. As we reflect to all the apartments we loved in previous years, they all have one thing in common: color. And we mean all kinds of colors – from blush pastels to fiery red. Same goes to materials used in interior – cold and impersonal metal can impress no one anymore, while natural materials like wood and shearling, as well as velvet and boucle complements the bold tones and makes your space truly unforgettable.
Warm Terracotta
Sometimes referred to as a burnt orange, this keyword was one of the trendiest color searches on Pinterest few months ago. This means just one thing – warm terracotta will rule our interiors in the upcoming years for sure. Call it the new exotic – of course, tropical leaves and jungle motifs won't go anywhere soon, but this warm and comforting hue brings an oriental vibe and reminds us of a heat-warmed desert sands. It pairs well with sage green, warm reds, and off-white.
Deep Navy Blue
Blue hues will rule the interior color trends in 2021. Deep, rich blue is a favourite of interior designers because of its versatility. Deep blue tone brings a serene and calming vibe at your space, boosts creativity and encourages conversations. A bold and saturated accent wall in deep navy will surely become a topic for a good conversation.
Uplifting Green
The new Roaring Twenties – that's how trendsetters describe the upcoming decade. As we roll further into 2021, we return to a bold opulence that once ruled at the decadent times of Art Deco. Green was the king, and it is going to have a bold comeback the next year. And we mean all kinds of shades – from sage green to warm lime, from dark Northern forest to warm and exotic palm leaf hues. Choose this color to have a welcoming atmosphere at your home.