Read a short novel how one interior blogger overcame the pandemic blues just by updating the room with a funky peel and stick wallpaper.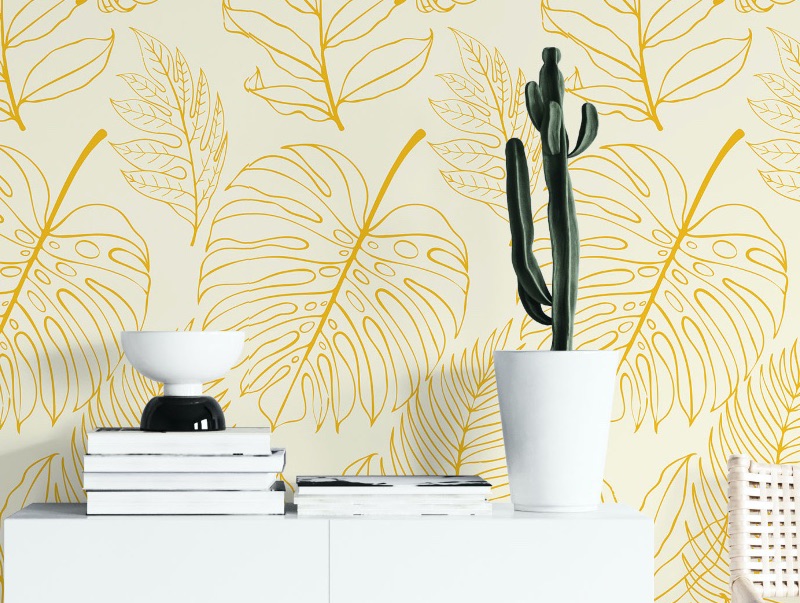 "Pandemic situation got you hard? I feel you here. The world is on a standstill for the second year in a row now, and the weirdest thing is that for the first time EVER everybody is in the same boat. It doesn't matter if you're rich or poor, running around in shorts and bikinis somewhere in California or wrapping yourself in down coats in Siberia, the big bad virus got all of us on our knees. And even though I know that everyone goes through the same mental errors and difficulties, somehow it feels like it's the worst for me particularly. Let me explain.
The World on Standstill
The summer of 2020 came with big plans like marriage that would hopefully end up with a baby carriage (M.I.A. refference here, y'all!). Then a sweet and splendid honeymoon in Mauritius sipping coconut water. In addition, that included working on my envy-worthy tan lines to survive the blues of becoming a mom of a newborn. I had it all planned out, and I was ready for it. Then March hit us hard with the breaking news that froze the world for an unknown time period.
The wedding, honeymoon and kiddo plans moved to the next summer, making the survival of these months unbearable. And then the year of 2021 came and – surprise, surprise – we were still at the same point. Nothing had changed. Everything felt really bad and I couldn't recall another time in my life when I felt so low. I needed a pick-me-up, and needed it ASAP. Then the most surprising thing happened that literally saved me from depression. A wallpaper. When it felt like nothing could help the situation, I decided to change everything around me. As I was locked in 4 walls, I decided to start exactly with that.
The Magic of Peel and Stick Wallpaper
Since I moved to my new apartment five years ago, I was enjoying a pure minimalism. In short, no excessive details, no bright colors, everything white and laconic. And with the swinging mood changes that I had recently, I decided to go bold. A quick search on Pinterest and I came up with an extra sunny, tropical yellow wallpaper by a company called The Wallberry. Totally crazy and unexpected, and a complete opposite to the white walls that I had all this time. I ordered, I applied (it worked like a sticker so it was super easy) and I was completely amazed. It was like a fresh breeze of air that run through not just my room but my mind as well. Who could have known that redesigning could have such a great impact on a mood?
Since that completely bold move, I've decided to update every each corner of my space. For example, the white walls are almost completely gone. From bold tropical prints to vibrant solid-color wallpapers, every inch of my home screams character. The simplicity of peel and stick wallpapers got me completely by surprise. I didn't have to hire big guys with six packs to renovate my room (not that I would brag about that but hey, the virus is still here). I could do that completely on my own. In short, peel and stick wallpaper turned out to be the fool-proof, fast and careless way of not just updating my room but also turning my mood upside down. And that's all I could have ever hoped for."